Rocket, Tomato and Buffalo Mozzarella Salad with Parmesan Crisps
This dish only takes a few minutes from start to finish. The flavours are excellent as long as you have good quality ingredients you will be rewarded. Buffalo Mozzarella should melt in the mouth and is best eaten soon after it is prepared, so if you have a local importer its worth paying for. If you are unable to purchase it freshly, most supermarkets now sell it sealed in small plastic bags alongside the normal variety of mozzarella. The best tomatoes are vine ripened or plum tomatoes, they should be bright red and ripe (try smelling them when you purchase them for flavour) tomatoes should be served at room temperature and not cold straight from the fridge.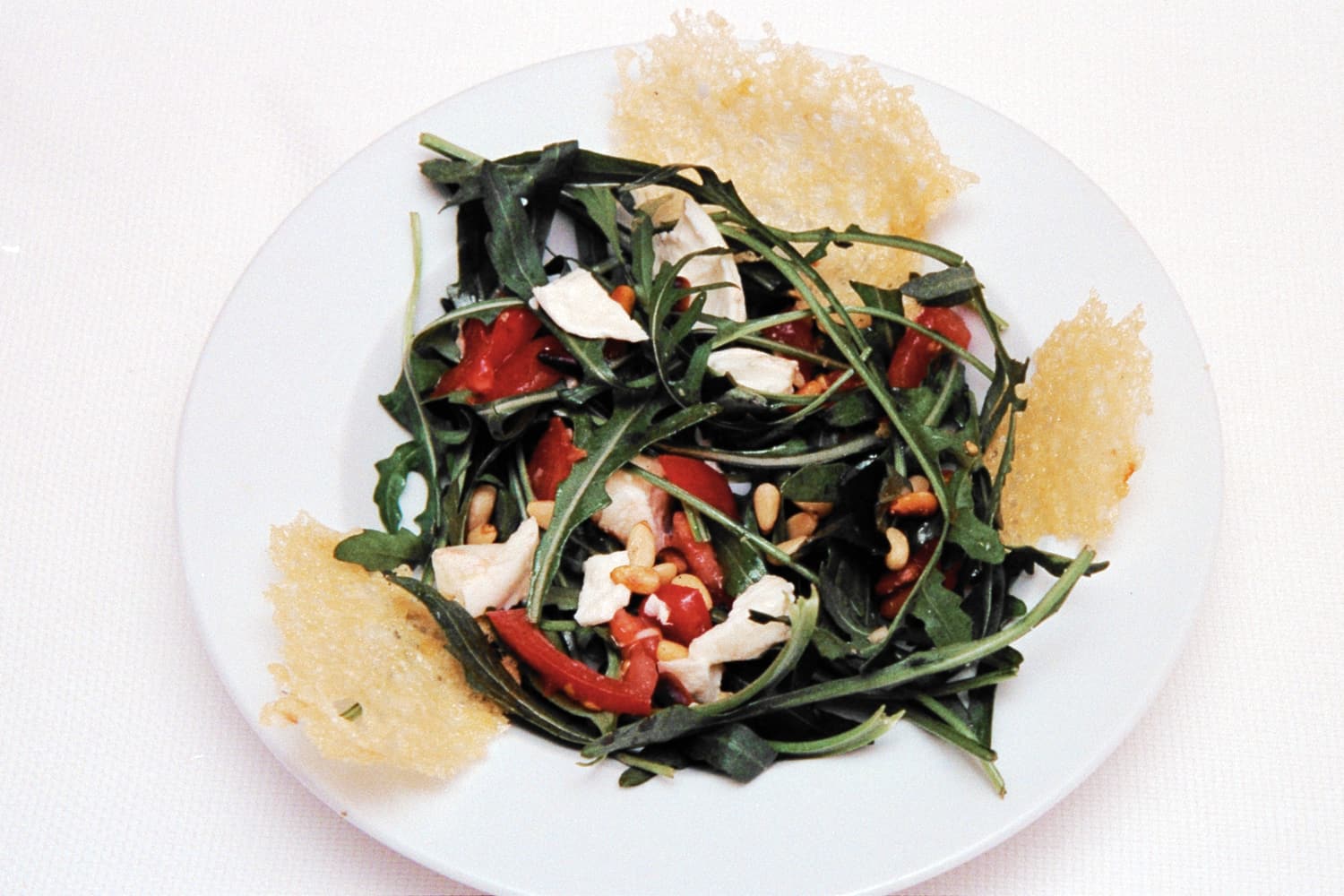 Wine Recommendation: Try a nice Pinot Grigio with this dish, the one from Ca Stella will go perfectly with this dish. See The Mixed Case for details.
Preparation: 5 minutes
Cooking: 5 minutes
Ingredients
Rocket Salad
150g rocket leaves
8 plum or vine ripened tomatoes, diced roughly
1 garlic clove crushed
500g buffalo mozzarella., Diced
handful of basil leaves shredded
maldon salt and freshly ground pepper
Parmesan Crisp
200g freshly grated parmesan
To Serve
50g toasted pine nuts
2 tbsp extra virgin olive oil
2 tsp. balsamic vinegar
Method
To Prepare Salad:

Place the tomatoes in a bowl, add the garlic and a little salt and pepper. Toss it together and leave it to stand while you make the crisp.

Parmesan Crisp:

Preheat a grill. On a non stick baking tray sprinkle 3-5cm rounds of cheese. Place the cheese under the grill and cook for 1-2 minutes until they are lacy and golden brown. Remove them from the grill and set them aside for 1-2 minutes to cool. Remove them with a palate knife and place them on a cooling rack. If preparing in advance store them in sealed container for up to 1 week.

Salad:

In a bowl toss the rocket leaves with the tomatoes, mozzarella, and basil leaves.

To Serve:

Serve the salad out on to four plates. Sprinkle the pine nuts around the plate, drizzle the olive oil and balsamic vinegar around the plate. Scatter the parmesan crisp around the plates and serve.
Support our site. Visit our sponsors!
Copyright Foodie LLC 1999 - 2010 (No reproduction without permission.) | Designed by edg3.co.uk | Valid CSS & XHTML