Quesadillas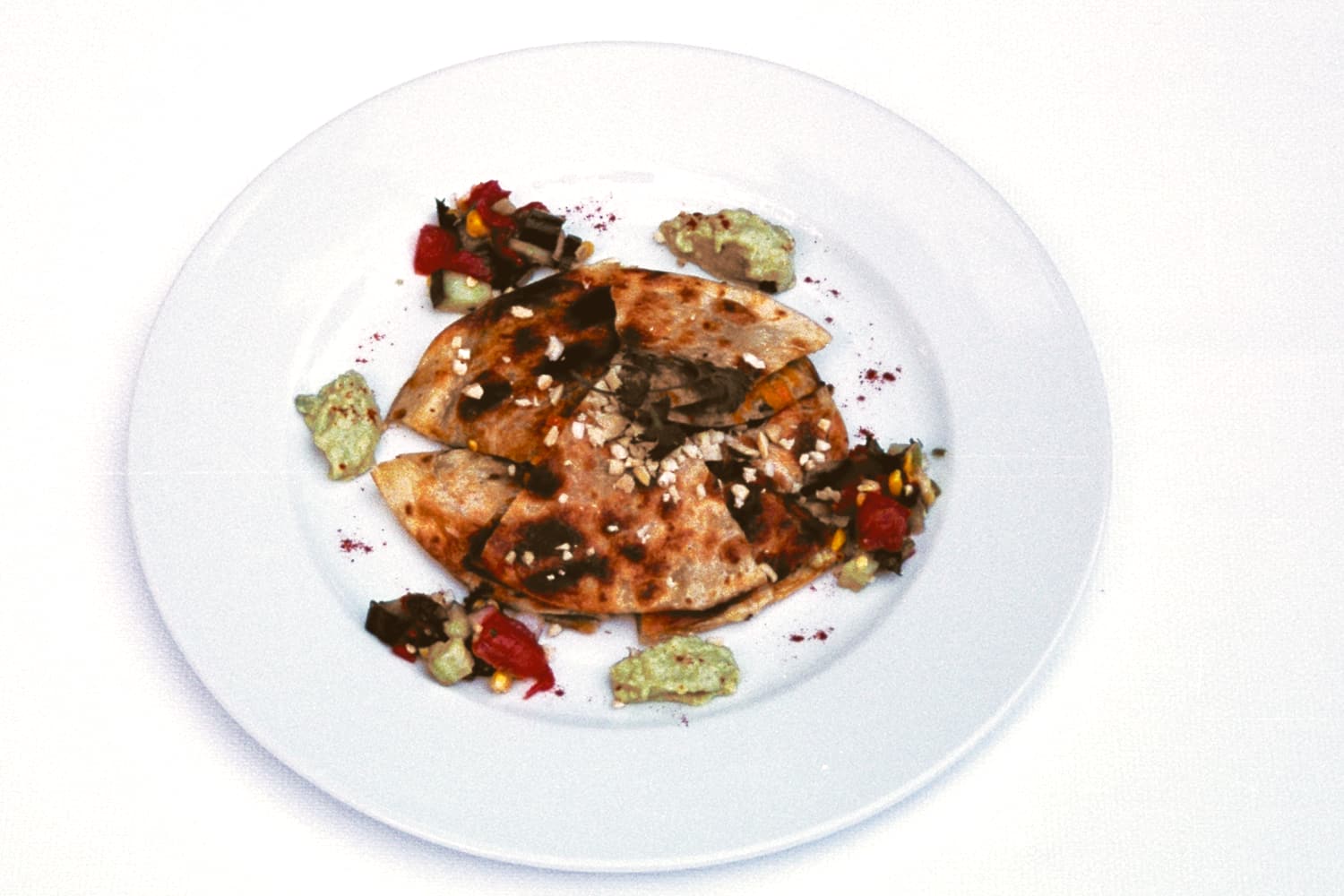 Quesadillas are a dish from Mexico that are very easy to prepare and cook. Barbecuing them adds an aromatic smokey flavour to them.
1 ripe avocado
3 tbsp. yoghurt
1 tsp. ground coriander
1/2 tsp. garlic powder (optional)
Juice of 1/2 a lime
1 drop of Tabasco
1 pinch of salt
300g cheddar cheese (or cheese of your choice that melts well), grated
300g carrot, grated
150g roasted mixed nuts, crushed
12 flour or corn soft tortillas
2 tbsp. Olive oil
300g tomatoes, diced
200g red onion, finely chopped
3 garlic cloves, finely chopped
300g cucumber, diced
100g corn kernels, cooked (optional)
1/2 bunch coriander, chopped
1/2 bunch mint, chopped
4 tbsp. olive oil
3 tablespoons lime or lemon juice
2 tsp. salt
2 tbsp. Caster sugar
Guacamole: Place the flesh of the avocado in a bowl with the remaining ingredients and mash them with the back of a fork, until you have a fairly smooth mixture. Alternatively puree in a food processor but the mixture may become to smooth.
Salsa: Place all the prepared ingredients in a container and mix them well so that all the ingredients intermingle. Leave for 1 to 2 hours at room temperature to allow the flavours to develop.
To Assemble: Brush one side of each tortilla with olive oil and place oiled side down on chopping board or plates. Distribute the cheese evenly onto 6 tortillas, followed by the 2/3's of the salsa, then the carrot and finally the nuts. On the other 6 tortillas spread 2/3's of the guacamole. Place the tortillas with guacamole on the cheese ones, so that you have 6 filled quesadillas.
To Cook: Place the quesadillas carefully onto a moderate BBQ cheese side down. Cook them for 3-5 minutes and carefully turn them over (a large fish slice is useful for this task). The cooked side should be golden with some dark grill marks. Cook for a further 3 to 5 minutes and remove them from the barbecue.
To Serve: Slice the quesadillas into 6 wedges, place them in the centre of each plate, over lapping the slices. Place 3 small spoonfuls each of guacamole and salsa around each plate. Sprinkle some crushed peanuts over the quesadillas and garnish with coriander. Serve.
To make tortilla chips cut them into 6 triangles and deep fry, sprinkle with a little maldon salt, garlic powder and smoked paprika, serve with the guacamole and salsa as dips.The salsa is a good accompaniment to grilled dishes such as salmon, chicken breast and steaks.