Spicy Smoked Fish Balls with a Mango Salsa and Creame Fraiche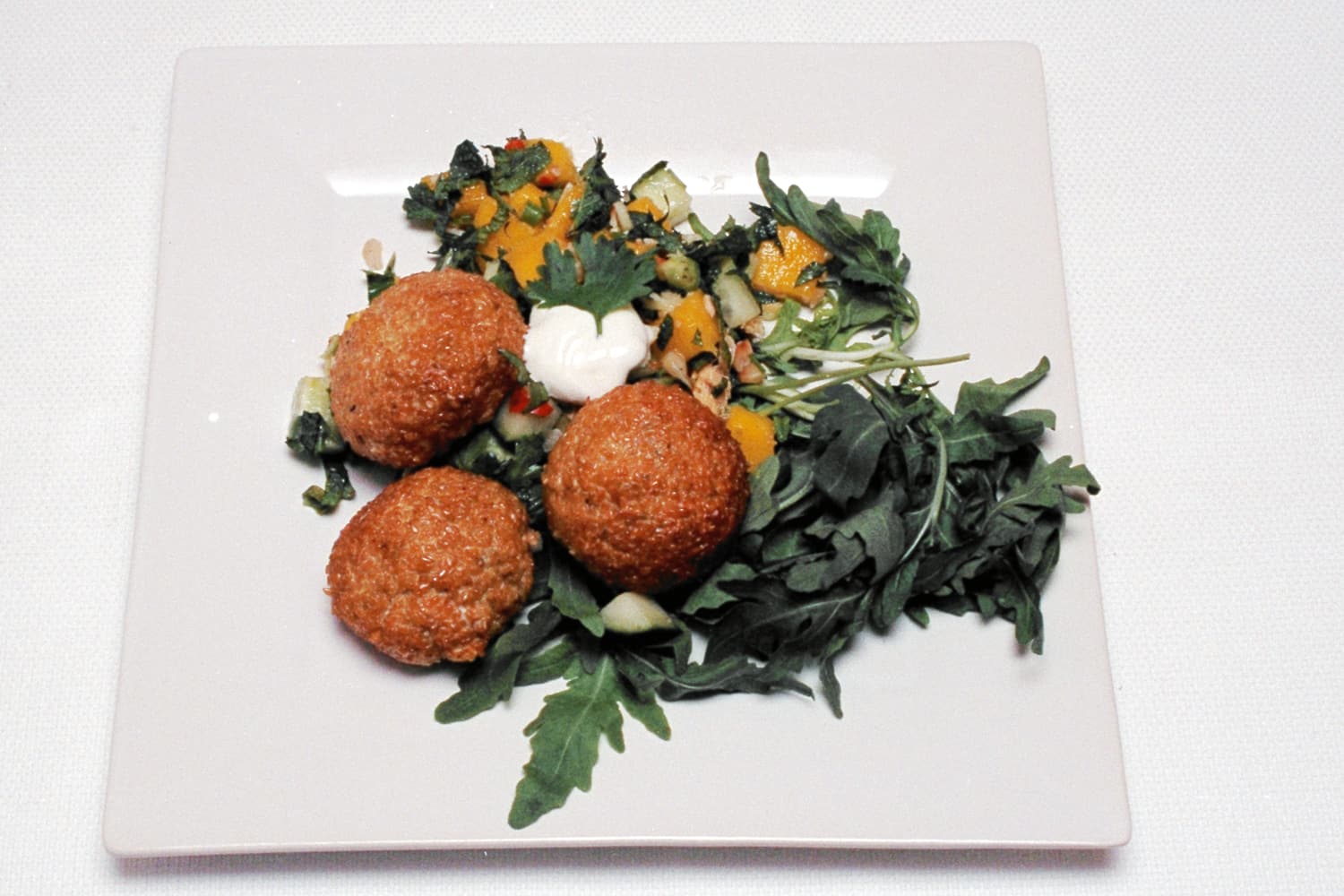 Instead of serving uninteresting fish balls, this recipe spices things up somewhat. The Mango Salsa adds extra zing that combines to make a tasty dish.
Makes 6 Portions or 30 balls
Prep: 20 minutes
Cook: 10 -15 minutes
400g cod fillet or haddock (firm white fish)
200g tiger prawns , peeled
3 tbsp chopped corriander
1-2 red birds eye chillis finley chopped
1 garlic clove, chopped finley
2 spring onions, finley chopped
juice of 1/4 lime
1 tsp thai fbish sauce (optional)
1 egg white
Pinch maldon salt and ground pepper
150g sesame seeds
4 tbsp sesame oil
4 Star aniseeds
3 tbsp saw dust
1 large ripe mango, diced into1-1.5cm
6 cucumber, in 1cm dice
2 spring onions finley chopped
2 tbsp corriander, chopped
2 tbsp mint leaves, shredded
juice of 1/2 a lime
1 tsp olive oil
pinch maldon salt and freshly ground pepper
120g rocket leaves or other salad leaves (optional)
6 tbsp crème fraiche
Fish Balls: Place the fish, prawns, egg white, corriander, garlic, chilli, spring onion, fish sauce , lime juice and seasoning in a food processor or blender and puree until smooth and well combined ( the mixture should be firm not runny if it is runny add more seafood). Take the mixture and make into balls about the same size as a golf ball, then roll into the sesame seeds so that they are well covered. Place ina covered container in the refigerator for at least 30 minutes to firm or until ready to cook.
To Smoke: Place the saw dust and star anise in a smoker or on foil in a wok or oven tray. Place the sesame oil on a tray or plate and roll the fish balls lightly in it them place the balls on a rack above the smoking mixutre and cover the container. Place the container over a moderate flame and smoke slowly for 10-15 minutes. The temperature must remain moderate or the smoke flavour will over power the fish. The balls are ready when slightly golden and firm. Serve hot or cold (refigerate until ready to serve).
Mango Salsa: Place all the salsa ingredients in a container and mix until well combined. Leave at least 10 minutes to allow the flavours to mingle.
To Serve: Place the rocket or salad leaves on each plate and then a couple of tablespoons of salsa in the centre of each plate. Arrange 3-5 hot or cold fish balls on the salsa followed by a tablespoon of crème fraich. Alternatively you may serve the balls as a canape or as part of an Asain meal or banquet.