Lentil and Pumpkin Curry in Gem Squashes with Deep Fried Stuffed Chapatis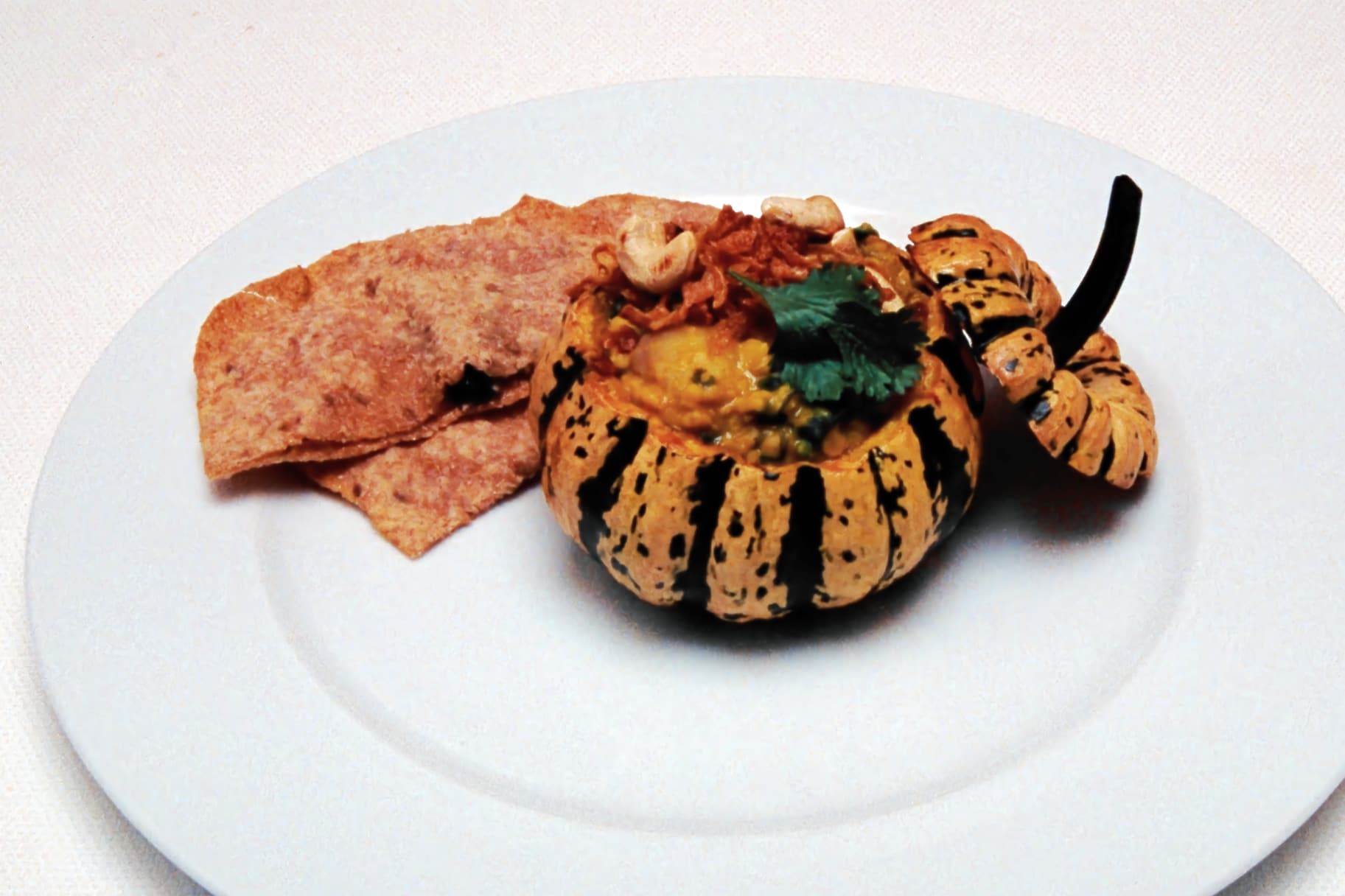 For those of you who think lentils yuck would be surprised how enjoyable they are in this dish. The curry is served in baked squashes which not only look good but also make a delicious base.
Preparing in advance: The curry and pumpkin can be prepared 2-3 days in advance.
Prep: 20 minutes
Cook: 40 minutes
2 tbsp. ghee or butter
2 tsp.cumin powder
2 tsp. coriander powder
2 tsp. turmeric
1 tbsp. ginger, peeled and finely chopped
2 garlic clove, finely chopped
6 tbsp. coriander, finely chopped
2 green chillies, finely chopped
125g red lentils
125g yellow lentils
200g pumpkin, peeled, deseeded and chopped into 3cm cubes
300g natural yoghurt
1 tbsp tomato paste
3 curry leaves
4 cardamom pods
1 cinnamon stick
120g spinach, washed and trimmed
1 tbsp caster sugar
1 tsp maldon salt, crushed
juice of 1/2 a lime
4 gem squash
1 tsp cumin powder
1 tsp coriander powder
1 tsp ginger powder
1 tsp asapoetida
50g butter
50g cashews, roasted
50g crispy onions, optional (available from most supermarkets)
coriander leaves
Deep Fried Chapati (See recipe) or shop bought naan bread
Lentil Curry:Heat the oil, ghee or butter in a saucepan over a moderate to high heat until hot. Add all the dry spices and fry for 30 seconds to 1 minute until aromatic.
Stir in the garlic, ginger, green chillies and 3 tbsp of the chopped coriander, cook them over a moderate heat for 1-2 minutes.
Add the rinsed lentils and coat them well with the spices and herbs and cook for a couple of minutes.
Stir in the yoghurt and then 500ml of water, add the curry leaves, cardamom pods and cinnamon stick. Bring the curry to a strong simmer, then reduce down to a low temperature and allow it to cook slowly for 20 minutes stirring regularly so that the bottom to the pan doesn't burn.
Add the pumpkin cubes and allow the curry to cook for a further 20-30 minutes, if the curry is to dry add a little more water and or yoghurt. The curry is cooked when the lentils are mushy and the pumpkin is soft. At this point add the spinach and stir it in until wilted and well distributed 1-2 minutes.
Remove the curry leaves, cardamom pods and cinnamon stick. Season the curry with a little salt and stir in the lime juice, sugar and remaining coriander. Keep warm until ready to serve or cool and refrigerate in a well sealed container until ready to reheat (the curry is good cooked a day or two in advance as it allows the flavours to develop)
Gem Squash: Cut off the tops of the squashes and scoop out all the seeds, rub the inside surface of them with the butter and spices and place with their lids on in an oven preheated to 180°C and allow to cook for 30-40 minutes, basting them halfway through the cooking period, until they are soft but still hold their shape. Keep them warm until ready to serve or cool and place covered in the refrigerator until ready to reheat.
To Serve:Fill hot cooked gem squashes with the lentil curry. Garnish it with cashew nuts, crispy onions and coriander leaves. Place the gem lids on the curry and place 1 piece of chapati or naan bread sliced in half on one side of the plate. Serve hot. *You may wish to serve the curry with mango chutney and or lime pickle or your choice of chutney and pickle.
* The pumpkin can be replaced with carrots, sweet potato, celeraic, parsnip or your choice of root vegetable.