Steamed Filled Rice in Lotus Leaves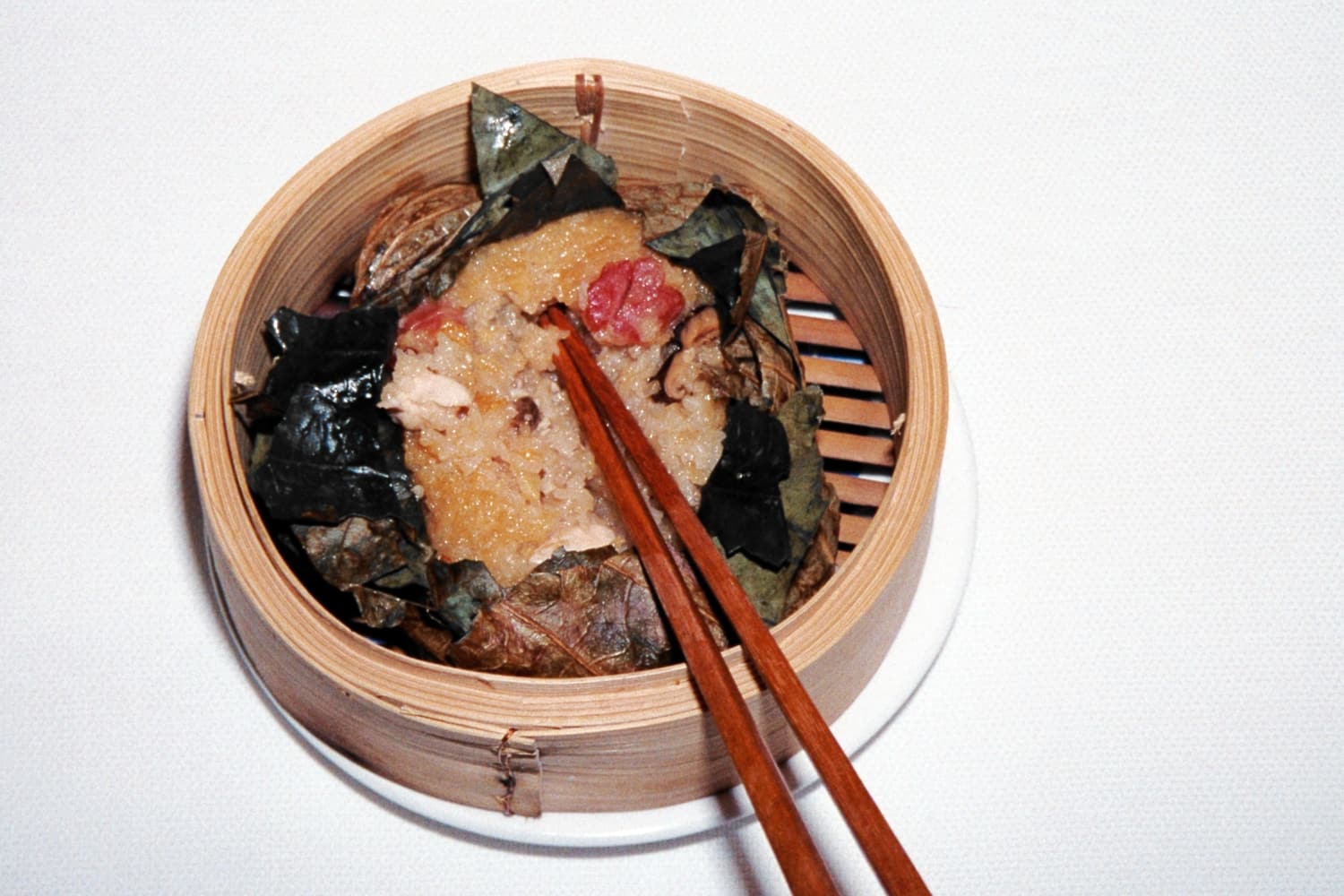 This dish is traditionally prepared with glutinous rice, which I have always known as sticky rice. If you are unable to obtain this you may use Japanese sushi rice or plain boiled rice. You may vary the filling in the rice by using different meat eg. BBQ duck instead of pork, if you are a vegetarian you can easily replace the meat with a little steamed Chinese cabbage, water chestnuts and sliced bamboo shoots.
Prep: 15 minutes plus 3-5 hour soaking time for the rice
Cook: 15 minutes plus 8-10 minutes to precook the rice
1 tbsp peanut oil or sunflower oil
1 garlic clove, finely chopped
3 tsp. ginger, finely chopped
12 shitake mushrooms, reconstituted in boiling water for 30 minutes and sliced, reserve mushroom water
150g chicken breast, sliced into small pieces
100g Chinese sausage, chopped into even pieces
1 tbsp dried shrimps, soaked in boiling water
150g Chines barbecued pork, chopped
400g cooked rice, glutinous, sushi or medium grain (200g uncooked) *To prepare see below
4 dried lotus leaves, softened in water and dried
3 tbsp soy sauce
1 tbsp caster sugar
75ml reserved mushroom water
1 tbsp corn flour plus 1 tbsp water
Sauce: Place the soy sauce, sugar and 50ml of the mushroom water in a saucepan and bring it to the boil and then reduce to a simmer. Mix the corn flour with the water in a bowl, stir it into the soy sauce mixture and sir it until it thickens slightly. Remove it from the heat and set aside while you prepare the rice.
Rice and Filling: Place the oil in a wok over a high heat. When it is hot add the garlic and ginger, cook them for 1 minute. Add the chicken, mushrooms, sausage, shrimps and cook them for 3 minutes, then add the pork and cook for a further minute. Finally stir in the rice and sauce and cook until well combined. Remove the mixture from the heat. Place the rice in the centre of each leaf and fold it over in a parcel sealing in the rice. Set it aside until ready to cook.
To Cook: Place 500ml of water in a steamer or a wok with 1-2 bamboo steamers and bring it to the boil. Place the parcels in the steamer or bamboo steamer/steamers and steam them for 15 minutes. Serve
Rice:
If you are using glutinous or sushi rice soak in cold water for 5 hours or in boiling water for 1-2 hours. Cook the rice with double the volume of water, bring it to the boil, then cover it with a lid, reduce to a very low heat and leave it to cook for 10 minutes then turn off the heat and leave it with the lid on until it is tender (around 10 minutes).