Steamed Banana Leaf Fish with Coconut Sauce and Tiger Prawns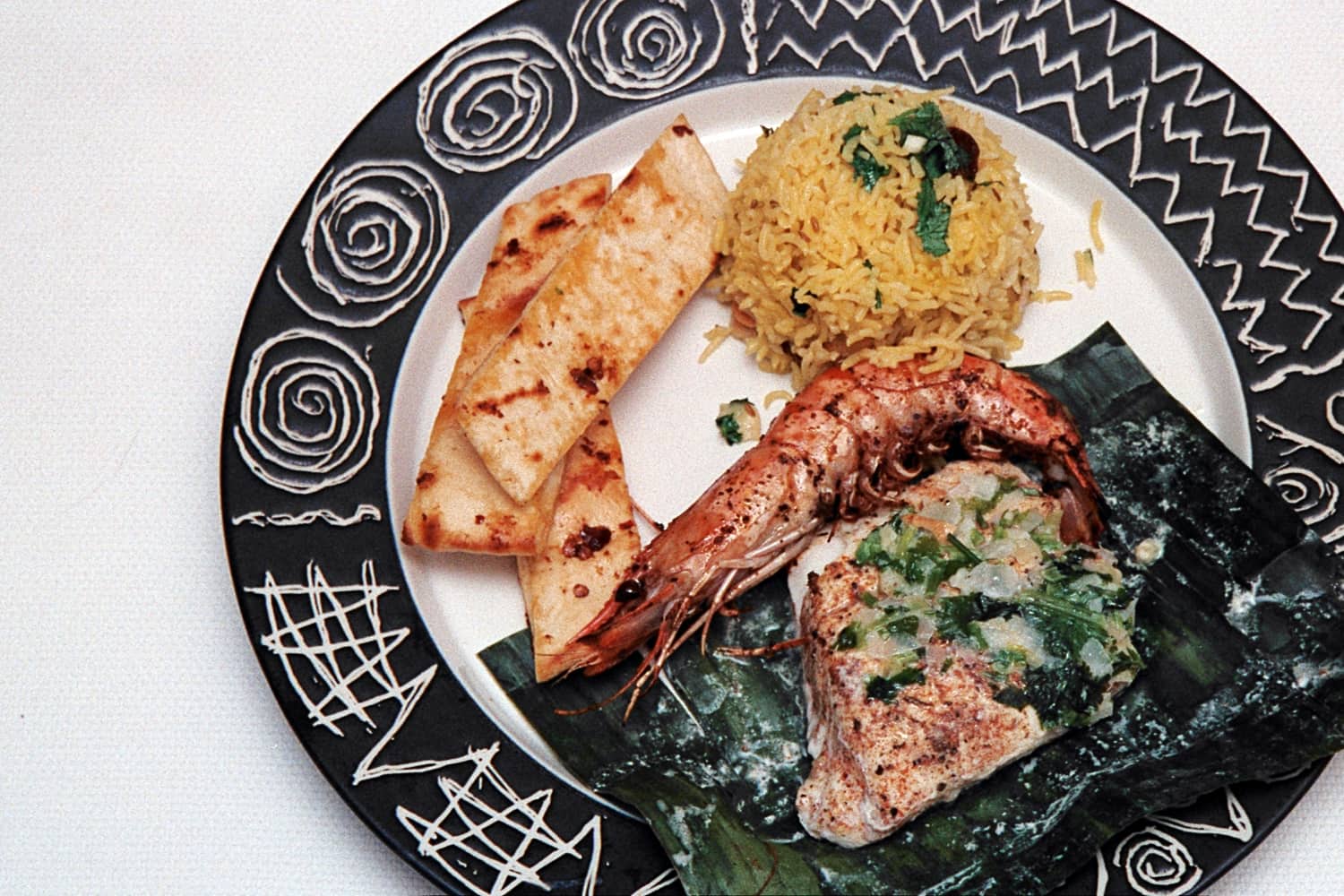 This recipe contains similar ingredients to many Thai recipes but the final results are quite different. Banana leaves can be purchased from most East Asian Grocers fresh or frozen but if you unable to find them you can wrap the fish in parchment paper or foil.
Prep: 15-20 minutes
Cook: 10 minutes
6x150-200g cod fillets or similar firm white fish such as haddock
juice of 1 lime
1 1/2 tsp cinnamon powder
1 tsp garlic powder
1 tsp mild paprika
1 tsp dried thyme
1 tsp freshly ground black pepper
pinch maldon salt or good another sea salt
1 tbps peanut oil or olive oil
1 tbps peanut oil
1 onion, finely chopped
2 tsp fresh ginger, finely chopped
2 tbps coriander, finely chopped
1 green chili finely chopped
300ml coconut milk
6 15cm x 10cm rectangles of banana leaves or substitute with foil or baking paper
boiled rice or pilau rice with turmeric and cumin seeds
grilled spicy pita bread slices
Method
Fish and Prawns: Place the fish and tiger prawns in a container and pour over the lime juice. Mix the cinnamon, garlic, paprika, thyme, pepper and sea salt in a small bowl until well combined. Sprinkle the mixture over the fish and prawns, toss them so that it is well coated. Cover the fish and place it in the refrigerator to marinate for 1-3 hours.
Sauce: Place the oil in a saucepan over a moderate heat, when it is hot add the onion and sweat it for around 1 minute until it is soft and transparent. Add the ginger and garlic and cook it stirring occasionally for a further minute. Add the remaining ingredients and leave it to simmer for 5 minutes. Remove it from the heat and allow it to cool.
To Cook the Fish: Remove the fish from the marinade and place each piece in the centre of each banana leaf or substitute. Pour the sauce over each fillet and bring the sides of the banana leave into the centre so as to seal in the fish and seal the leaves with tooth picks or wooden skewers if necessary. Bring some water to the boil in a bottom of a large steamer then reduce to a steady simmer. Place the fish on the top level of the steamer and cover, leave the fish to cook for 5-8 minutes dependent on the thickness of the fillets.
To Cook the Prawns: Remove the prawns from the marinade and toss them in the oil. Heat a grill pan over a high heat and when it is hot place the prawns in it and cook them for a couple of minutes on each side so that they are pink or alternatively cook them under a hot grill.
To Serve: Remove the fish from the steamer and place them on serving plates in their banana leaves and opened up, place a prawn on each fillet. Serve the fish with a boiled rice or pilau rice and slices of spicy pita bread.
Soak 300g of long grain rice in water or rinse it until the water runs clear. Preheat an oven to 175°C. Place a couple of tablespoons of butter or oil in a deep pan or saucepan which is oven proof and place it over a moderate heat. When it is hot add 1/2 a finely chopped onion, 2 tsp cumin seeds and cook it for a 1 minute then add stir in the drained rice and 1/2 teaspoon of turmeric and cook it for 30 seconds. Pour over 500ml water or vegetable or chicken stock. Place the rice in the oven covered with a lid or foil. Allow it to cook for 20-30 minutes until the liquid has dissolved and the rice is tender. Remove the rice from the oven and add a tbsp of sultanas, cashews and a little finely chopped flat leaf parsley (optional) and stir incorporate them with a fork fluffing up the rice. Keep the rice warm until ready to serve or serve it cold.Toss slices of pita bread in a little oil with paprika, crushed dried chilies, fresh garlic or powder and a little salt. Grill them under a hot grill or cook them in a grill pan or barbecue. Delicious served hot or cold.