Blinis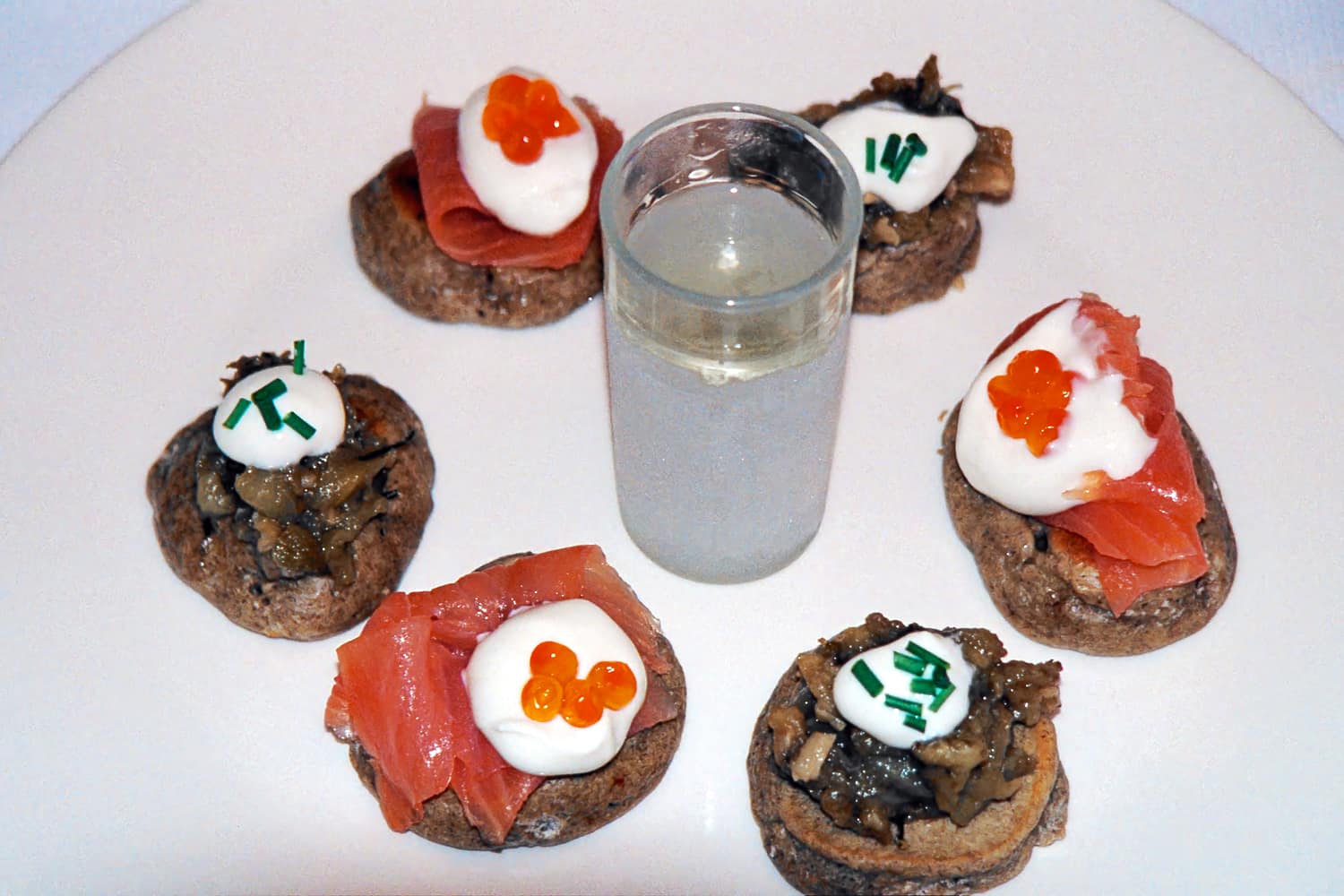 Blinis are small pancakes that are traditionally served before lent like Pancake day on Shrove Tuesday. They are usually served with sour cream and caviar but there are many variations, the moist common being smoked salmon and caviar.
Prep: 10 minutes (plus 1 hour standing time)
Cook: 10 minutes
2 tsp dry yeast
200ml warm milk
1 tsp caster sugar
120g plain flour
3 eggs separated
120g buckwheat flour
maldon salt
butter (for cooking)
200g Smoked salmon
200g creme fraiche
1 jar keta (salmon caviar)
Aubergine caviar (recipe follows)
2 tbps chives finely chopped
Blinis: Place 4 tbsp of the milk and caster sugar in a bowl and sprinkle over the yeast, mix it until dissolved. Cover it with cling film and set aside in a warm place for 10-15 minutes until frothy.
Sift the plain flour into a bowl and stir in the yeast mixture until smooth cover it and set aside in a warm place until doubled in volume.
Stir in the buckwheat flour into the yeast and flour mixture. Beat the egg yolks in a container with the milk then mix into the batter with a pinch of slat until smooth. Cover the mixture and et aside until doubled in volume (around 30 minutes).
Whisk the egg whites in a clean bowl until stiff with soft peaks. Fold the egg whites into the batter, cover and set aside for 15-20 minutes until risen.
To Cook: Heat a crepe pan or frying pan over a moderate heat, when it is warm melt 1-2 tbsp of butter in it. Place generous tablespoons of the batter in the pan and cook each one for 1 minute on each side. They should be golden and risen. Keep them moderately warm until ready to serve.
To Serve: Place 4-6 pancakes on each plate. Place small slices of the smoked salmon on half or all the pancakes and top with a teaspoon of creme fraiche and a finished with a little salmon eggs. Place generous teaspoonfuls of aubergine caviar on half or all the blinis' followed by 1/2 a teaspoon of creme fraiche and sprinkle of finely chopped chives. Serve. Blinis' are excellent with good frozen vodka which makes for a very indulgent Sunday Brunch.
See our
Aubergine Caviar recipe
for a vegetarian alternative.