Vietnamese Rice Paper Rolls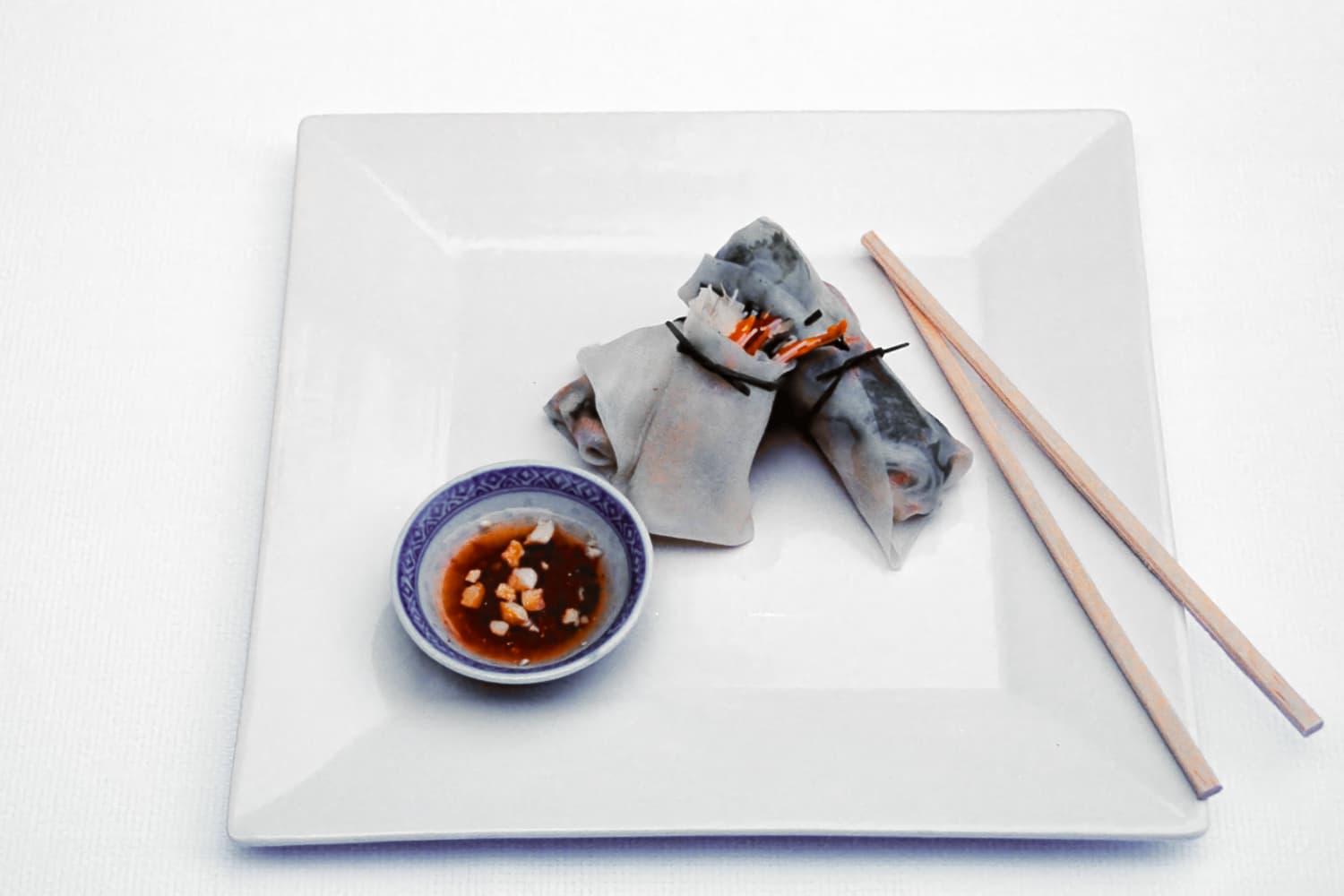 This dish it seems is the most famous Vietnamese dish, finding its way onto many modern restaurants menus around the world. It is very easy to prepare as long as you have the basic ingredients and the filling can easily be adjusted to your own taste, such as adding cooked prawns or shredded chicken. These rolls can also be deep fried to make Vietnamese Spring Rolls, the pastry when deep fried is thin and crispy but much more delicate than Chinese spring roll pastry, so don't over crowd them when cooking them as they will stick and break open.
4-6 Portions as a starter or 20 canapes
Prep: 30 minutes
Cook: 10 minutes
50g bean Sprouts
120g Vermicelli Noodles
4 tbsp. Coriander (chopped)
4 tbsp. Mint (chopped)
1 tbsp. Fish Sauce (or Soy)
2 tsp. Rice wine vinegar
Juice from ¼ lime
1 large red chilli finely chopped
1 clove garlic peeled and crushed
2cm ginger peeled and finely chopped
1 tbsp caster sugar
20 small, round rice papers
4 tbsp. Sweet chilli sauce
2 tsp. Rice wine vinegar
1 tbsp. Crushed peanuts (unsalted)
Dip rice paper in Luke warm water for a few seconds. Shake off excess water & allow it to soften continue this with all the papers.
Combine all the ingredients together.
Place a little of the mixture in the corner of each rice paper & roll into a cigar shape, then tie the chives around the centre of the rolls with a knot (optional). Repeat for all the rolls. Place in a covered container and refrigerate for up to 5 hours before serving.
Sauce: Mix the sweet chilli sauce and rice wine vinegar. Place in a covered container until ready to serve.
To Serve: Place three rolls onto the centre of each plate, so that they are leaning against each other. Place the sauce into 6 small individual bowls which will fit easily onto the plates or into 1 large sauce bowl to be placed in the centre of the table or drizzle the sauce evenly around the edge of each plate. Sprinkle the sauce with the nuts (optional) and serve.The rolls can be served on one large plate for everyone to serve themselves from or they make great canapés or take along with you as part of a picnic.