Braised Chinese Spareribs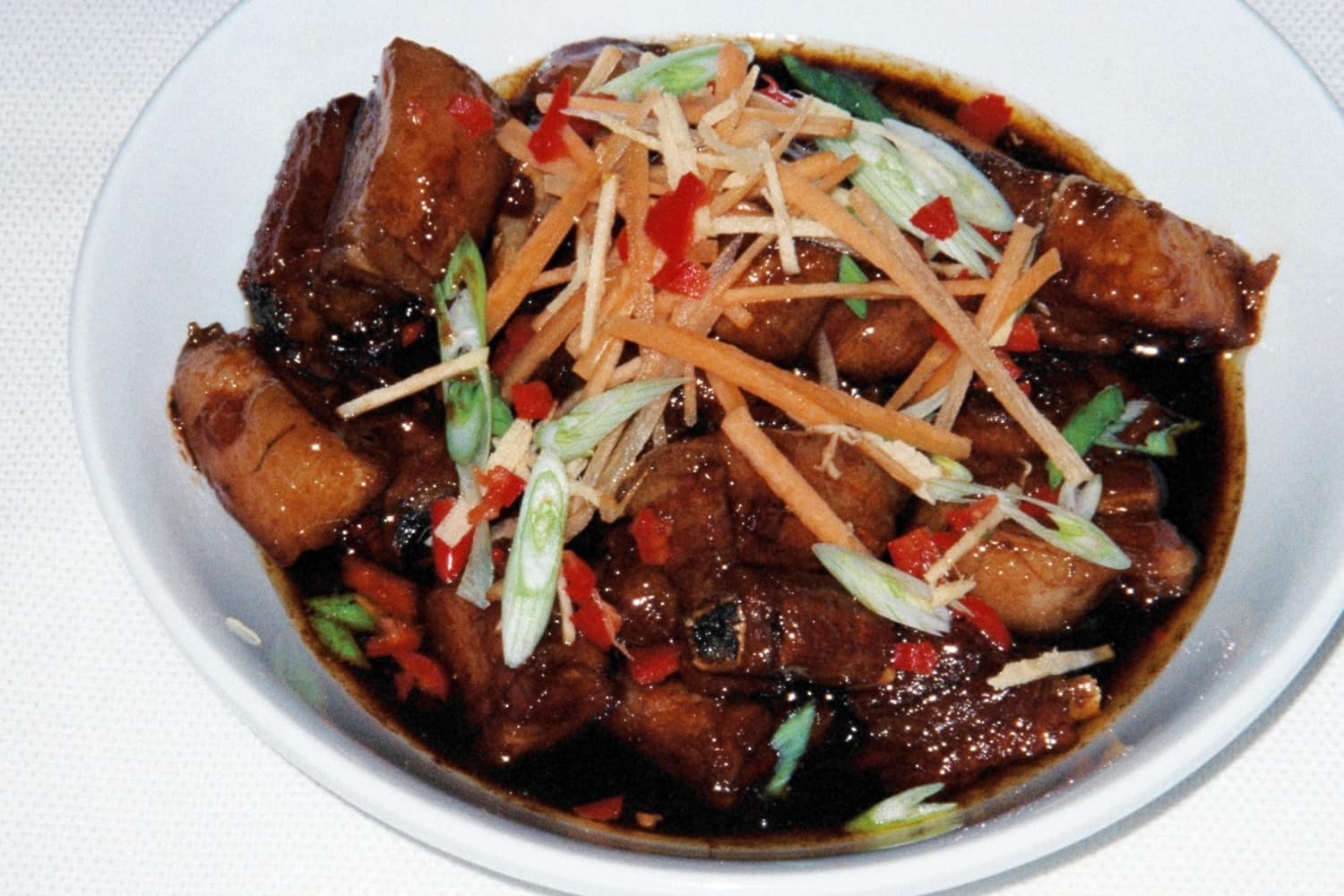 Prep: 10-15 minutes (plus over night marinating)
Cook: 60 minutes
1-1.2kg pork spareribs (chopped with a cleaver into 5 cm pieces)
150ml soy sauce
1-2 red chillies, finely chopped
1 tbsp ginger, finely chopped
3 garlic cloves, crushed
2 spring onions
200ml shohsing wine or dry sherry
2 tsp five spice powder
3 tbsp peanut or sunflower oil
4 tbsp honey or golden syrup
1 spring onion, sliced thinly on a slant
1 tsp ginger, shredded
1-2 tsp carrot peeled and , julienne finely (5cm x 1mm)
boiled rice
Marinade: Place the soy sauce, ginger, garlic, five spice, chilli, wine and 2 tbsp of the honey in a container and stir together until combined. Place the pork in the marinade, cover and refrigerate. Allow it to marinate for 24 hours.
To Cook: Pour the oil into a wok or frying pan and heat over a moderate-high heat. Remove the pork pieces from the marinade and place them in the wok or pan and seal for a couple of minutes so that they are browned. Place the ribs in a saucepan and pour over the marinade. Bring the marinade to a simmer and cover it with a lid and leave to simmer gently for 40 minutes (The meat should be tender). Add the remaining honey or golden syrup to the pan and increase the temperature to a strong simmer and reduce the sauce so that it is slightly sticky and the pork is glazed (5-8 minutes).
To Serve: Remove the pan from the heat and spoon the ribs and sauce into a large serving bowl. Sprinkle over the spring onion, shredded ginger, carrot julienned and a little extra chilli (optional). Serve with bowls of boiled rice.