Mussels with a Tomato and Saffron Sauce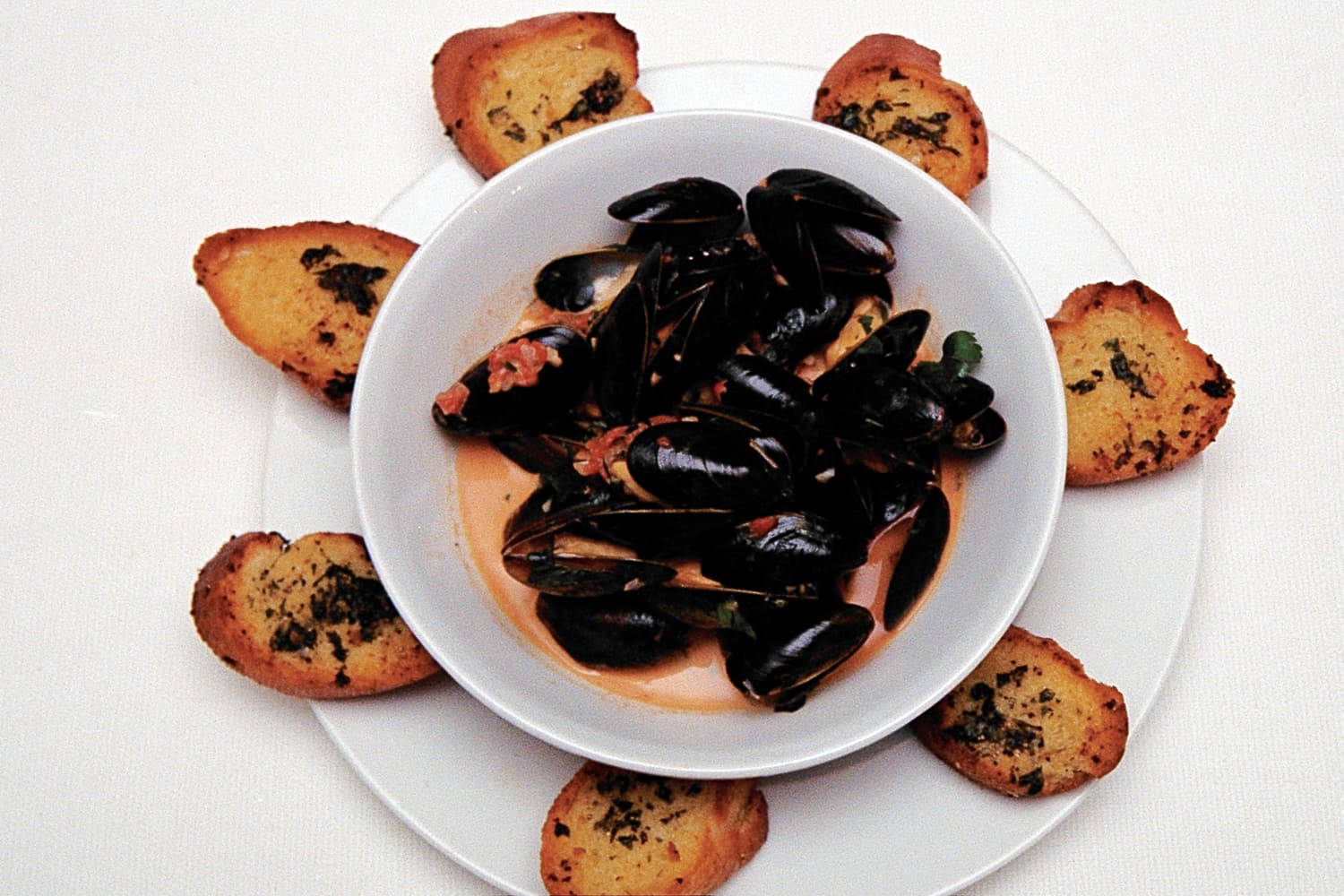 Prep: 15 minutes
Cook: 20 minutes
1kg mussels, washed, scrubbed and debearded (any that stay open after giving a sharp tap should be discarded as they are dead)
200ml white wine
100ml fish stock or water
onion finely chopped
2 garlic cloves, finely chopped
200g canned plum tomatoes, finely chopped
1 chilli finely chopped
pinch saffron strands
200ml double cream
4 tbsp parsley finely chopped
1 baguette sliced into 2cm thick slices
2 garlic cloves crushed
1 tbsp parsley finely chopped
150ml olive oil
Mussels: Place the mussels in a large saucepan and pour over 100ml of the wine. Cover the pan with a lid and place over a high heat, shaking the pan regularly to redistribute them. Cook them for 3-5 minutes until they have opened. Remove the pan from the heat and strain the cooking juices from the pan and reserve them for the sauce. Place the mussels in a container while you prepare the sauce. Discard any that haven't opened.
Sauce: Place the reserved juices with the rest of the wine, stock or water, garlic, onion, tomatoes, chilli and saffron in a large saucepan and place it over a moderate-high heat and leave it to simmer for 10 minutes, stirring regularly..
Garlic Bread: Preheat a grill to a moderate-high heat. Place the olive oil, garlic and parsley on a plate and mix them together so that they are well combined. Place the baguette slices in the oil and coat both sides with the mixture and place them on a grill tray. Place the baguette slices under the grill and cook them for minute on each side so that they are toasted and golden. Keep them warm by covering them in foil or in a low oven until ready to serve.
To Finish Sauce: Stir the double cream and parsley into the sauce and cook for 1 minute. Add the cooked mussels to the sauce and cook them for a couple of minutes so that they are heated through. Serve.
To Serve: Serve the mussels in large bowls on plates with slices of garlic bread or place the bread in a basket in the centre of the table. Place a plate at the side of each serving for the shells and finger bowl with a slice of lemon for guests to clean their fingers in.