Salt Cod Balls with Saffron Alioli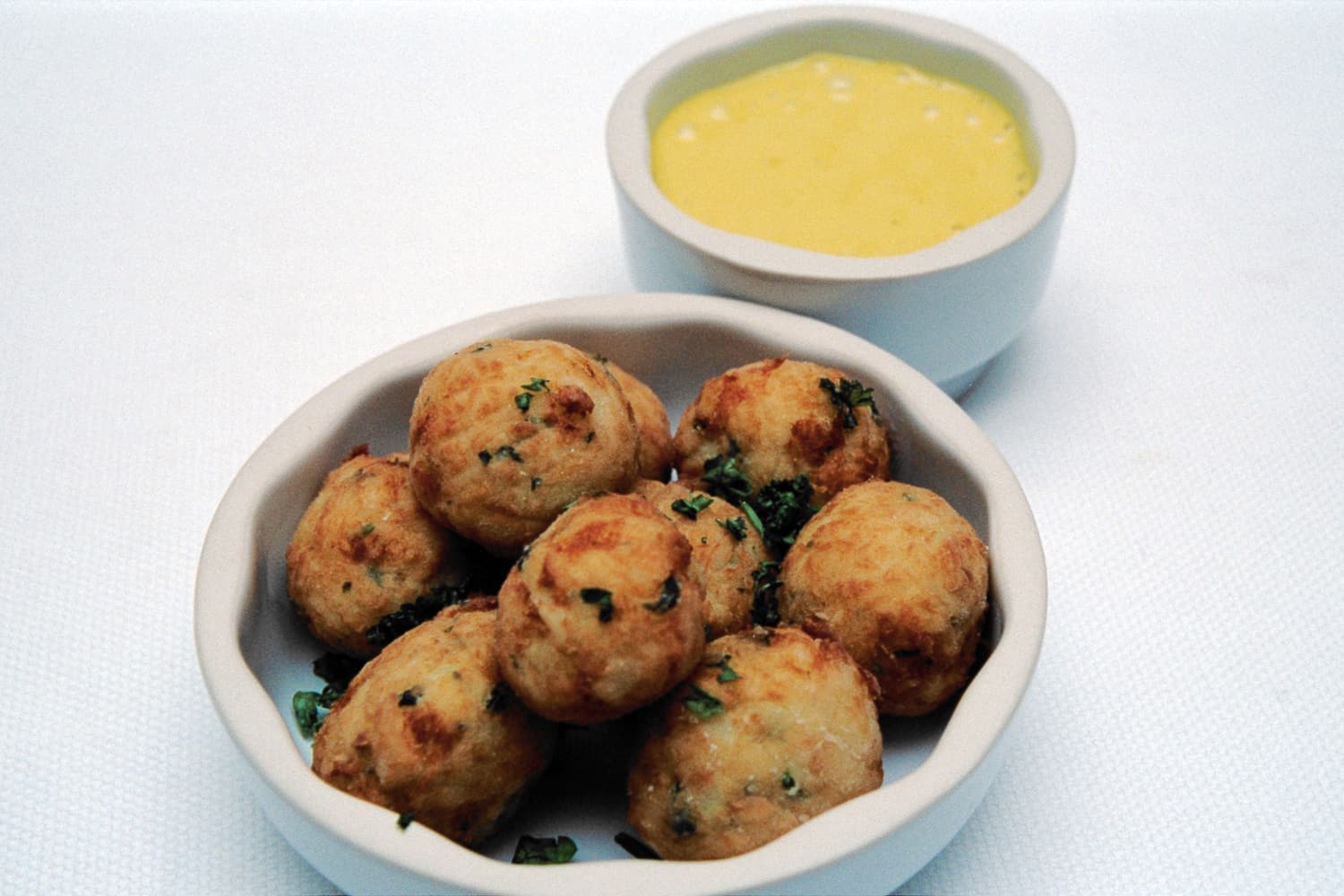 Salt cod apears in many Spanish recipes including many salads.
Prep: 20 minutes (plus 24-36 hours soaking time)
Cook: 30 minutes
250g dried salt cod
400g potatoes, washed and scrubbed
1 tsp paprika
3 garlic cloves, finely chopped
1 tbps parsley finely chopped
60ml double cream
2 egg yolks
100g plain flour
oil for deep frying
2 garlic cloves, crushed
2 egg yolks
pinch saffron, ground
pinch salt
200ml olive oil
Salt Cod: Soak the salt cod in water and place it in the refrigerator to soak for 24-36 hours. Change the water 3-4 times, this helps remove the salt.
Place the salt cod in a pan and cover it with water. Place it on a moderate-high heat and bring it to the simmer. Leave it to cook for 15-20 mintues on a gentle simmer, so that it is just cooked and can easily be flaked. Remove the cod from the heat and flake the flesh into a bowl, being careful not to get any skin or bones in it.
While the cod is cooking place the potatoes with their skin on in a saucepan, cover them with water and cook them for 20-25 minutes so that they are tender. Drain the potatoes and peel the skin from them, mash them well with a potato masher or pass them through a ricer or sieve.
Salt Cod Balls: Add the potatoes to the cod along with the paprika, garlic, parsly, cream and egg yolks. Beat the mixture together firmly with a wooden spoon so that the mixture is well combined and firm. With lightly floured hands form the salt cod mixture into golf ball size balls and roll them in the flour. Set them aside until ready to cook. The cod balls can be covered and refirgerated for up to one day before cooking or frozen in a contianer.
To Cook: Heat oil in a deep fryer, deep saucepan or wok to 180-190°. Cook the cod balls a few at a time until golden brown all over for 2-3 minutes. Remove them from the heat and drain on kichen paper. Keep the cod balls warm while you cook the remaining ones.
To Serve: Serve the cod balls with Alioli or mayonaise.
Place the garlic, eggs, saffron and salt in a food processor and process it until just blended. While the motor is still running slowly add the olive oil until you have a mayonaise consistency. Serve at once.