Mussel Chowder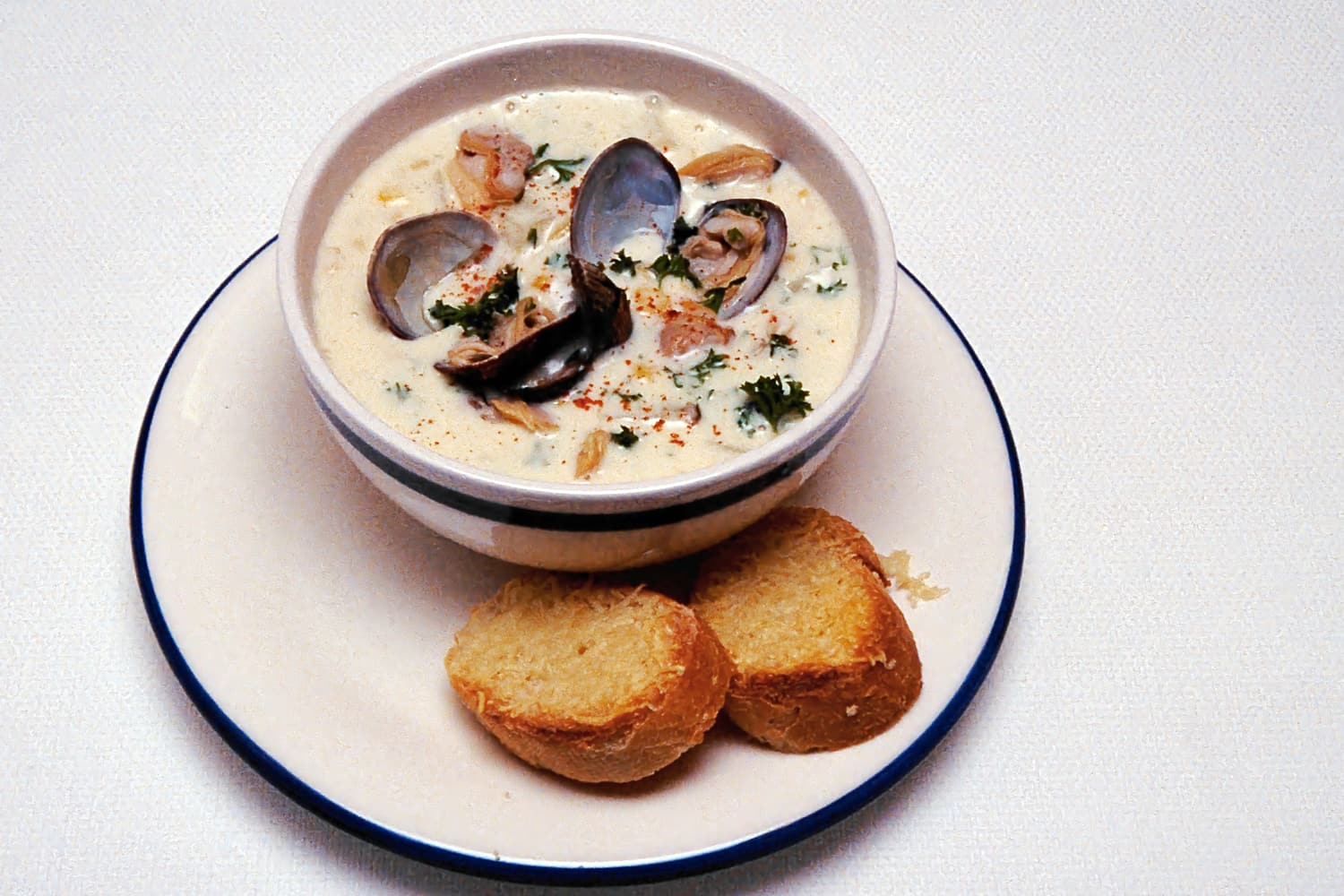 Prep: 10 minutes
Cook: 15-20 minutes
1kg mussels, washed and scrubbed (unopened & cracked ones discarded)
1 litre milk
300g potatoes, peeled and diced into 1-1.5cm cubes
3 corn on the cobs cooked and corn kernels cut off or 250g corn kernels (canned)
3 tbsp parsley, finely chopped
2 tbsp corn flour
4 tbsp milk (extra)
1 tsp freshly grated nutmeg
12 slices baguette toasted with 100g Gruyere, cheddar or Parmesan cheese.
1 tbsp parsley, finely chopped
1 tsp smoked pimento paprika or cayenne pepper
Mussels:Place the mussels in a saucepan with water just enough water to cover them, place a lid on the pan and put it over a moderately high heat. Bring it to the simmer and remove the mussels from the heat when they have just opened. Any mussels that don't open discard. Set 12 mussels in their shells aside. Remove the remaining mussels from their shells and set them aside (if you are cooking the mussels in advance cover and refrigerate them until ready to reheat). Strain the reserved cooking stock from the mussels and place it in a pan on the stove to reduce, so that you are left with around 100ml of stock.
Chowder:Place the potatoes in a saucepan with the milk and bay leaves. Place the pan over a moderate heat and allow it to simmer for 8 minutes until the potatoes are tender. In a small bowl or container mix the extra milk with the corn flour so that it is smooth. Stir it into the hot milk with the potatoes and until it thickens slightly, then stir in the double cream and a little salt and pepper. Add the corn and mussels to the pan and reheat until hot. Stir in the parsley and grated nutmeg. Serve.
To Serve:Distribute the soup among 4 service dish. Sprinkle over the extra parsley and paprika or cayenne pepper. Serve with toasted slices of baguette with or without cheese.