Pavlova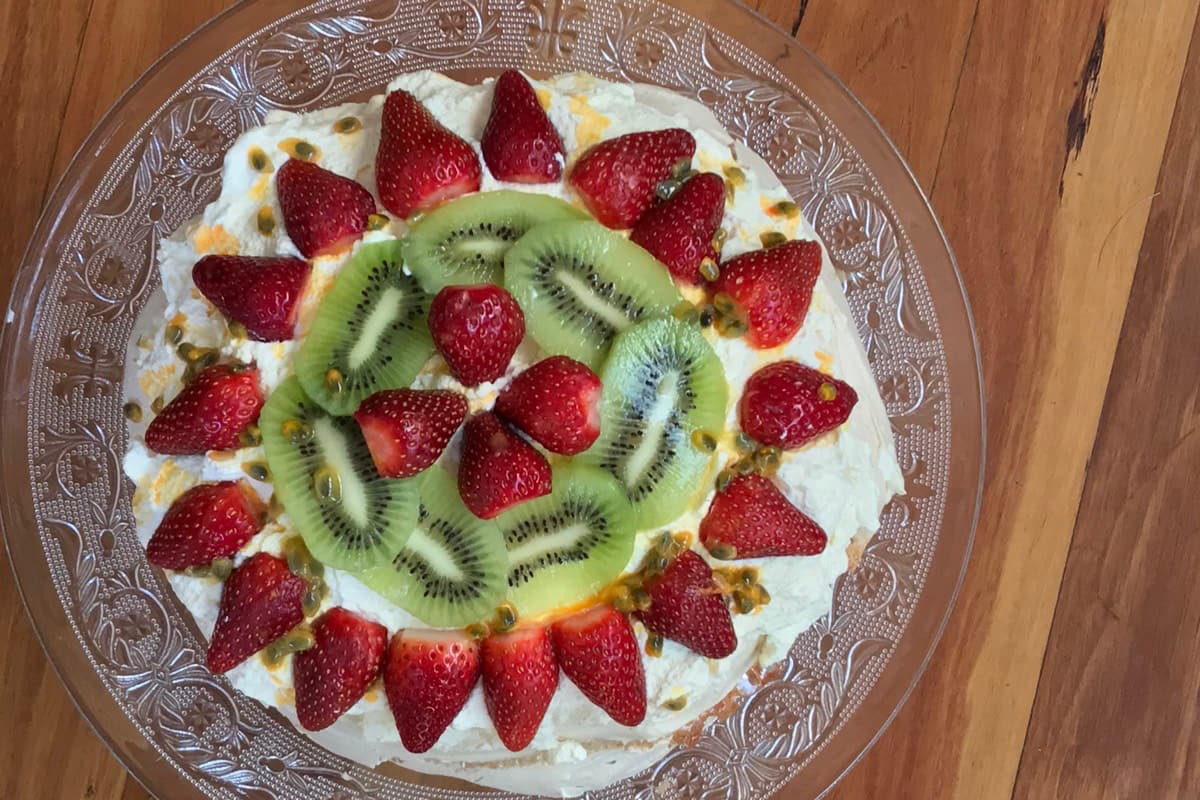 Pavlovas our one of my favourite desserts to make since I was a child. Whenever my father or husband around they quickly demolish the lot. You can flavour pavlovas just like meringues eg. Adding rose water, cocoa or coffee flavourings. The topping on the pavlova can be made up of your own choice of fruit and grated chocolate on top is also delicious. The outside of the pavlova should be crunchy and the inside should be like marshmallow.
Prep: 15 minutes
Cook: 90 minutes
4 egg whites (medium)
250g caster sugar
1 tsp white vinegar
2 tsp corn flour
500ml double cream
4 tbsp icing sugar
2 kiwi fruits, peeled and sliced
1 punnet of strawberries, trimmed and halved or left whole
1-2 passion fruits
Pavlova: Place the egg whites in a clean bowl and mix it with an electric mixer until stiff peaks (when you turn the bowl upside down the egg should remain in the bowl). On a low speed gradually mix in the sugar return it to a high speed and mix for a further 2 minutes until is firm and glossy. Then fold in the vinegar and corn flour On a lined baking tray pile the meringue into a circle (at least 20cm in diameter) with it slightly domed in the centre (this will spread out when cooked). Place the pavlova in the centre shelf of an oven preheated to 190°C and cook at this temperature for 10 minutes then reduce the temperature to 150°C and cook for 1 hour and 20 minutes. The pavlova should be crisp and white. Remove the pavlova from the oven and allow to cool.
Topping: Whipped the cream with the sifted icing sugar until it holds firm peaks firm. Remove the pavlova from the baking tray and place on a serving plate. Spread the whipped cream over the top of the pavlova and decorate it with the strawberries and kiwi fruit, and squeeze the passion fruit over the top or try sprinkling grated chocolate. Serve.
* The pavlova will need to be stored in the refrigerator as it is made with eggs.